Profile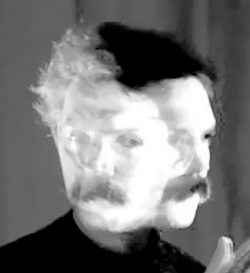 Bent Von Bent / Ōgon Batto is a Belgian composer and sound artist. Besides working as a visual artist around archiving systems and collections, he is also the co-founder of the Hare Akedod label and the electronic music duo Spirit&Form (together with David Edren aka DSR Lines). Bent Von Bent hosts a monthly radioshow on We Are Various (WAV), called 'gemu', a research project and mutable archive focused on video game music. 
COMMISSIONS/CONTRIBUTIONS
2022
Vranckx – Canvas, Belgian television broadcaster
Music for "Land zonder volk", a documentary about the political instability of Bosnia and Herzegovina by Arno Van Rensbergen, Jeroen Van Rensbergen and Hannes Blommaert, aired on Canvas, 01/10/2022.
Pulsar Docs
Music for "Leven aan de grens", an online documentary series about Melilla by Arno Van Rensbergen, originally aired on Canvas in 'Vrankcx & De Nomaden', 23/10/2021.
Kunstenpunt
Music for Trailer 'Infosessie kunstenaar in residentie'.
2021
Tegenlicht – VPRO, Dutch television broadcaster
Music for "De toekomst van protest", a documentary about new forms of activism
by Jan Beddegenoodts & Jos De Putter.
FREI(T)RÄUME
Music for the ENVISIONING FREE SPACE Conference, Berlin.
SLEEPERS/DREAMERS
Theme for a 60 hour online performance by MISANTHROPOZINE (Pieterjan Ginckels, Studio Snowflake + guests). Three pieces were composed for viola, cello, double bass and guzheng.
Dennis Tyfus – 'The Seventh Beatle'
Music for juke box Installation by Dennis Tyfus, Tim Van Laere Gallery.
2019
MAS, Museum Aan de Stroom
Music for 'Cool Japan' exhibition.
PAST SHOWS/TOURS
2022.10.29 – We Are Various Feest – Het Bos, Antwerp (BE)
2021.09.18 – STROOMPLEIN: CLOSING DAY & NIGHT – Onderstroom, Antwerp (BE)
2021.08.14 – De Nor presents 24 JAAR ULTRA ECZEMA – De Nor, Antwerp (BE)
2021.08.05 – Het Bos, Antwerp (BE) w/ Justine Grillet
2018.06.23 – Hedoro LP Release – Forbidden City, Antwerp (BE)
2018.06.21 – Pêle-Mêle, Waterloo (BE) w/ DSR Lines
2017.11.04 – THE GATHERING OF TRANSMEDIAL PUBLISHERS – Het Bos, Antwerp (BE)
Ōgon Batto Hedoro Tour BE/NL/DE – Sept-Oct 2017
2017.10.21 – Econore Noisefest, Mönchengladbach (DE)
2017.10.20 – Troglobatem Festival, Stuttgart (DE)
2017.10.19 – Fasanerie, Saarbrucken (DE)
2017.09.08 – Meakusma Festival, Eupen (BE)
2017.09.04 – Occii, Amsterdam (NL) w/ Jooklo Duo & Riccardo Sinigaglia (IT), The Dwarfs of East Agouza (EG/USA)
2017.09.03 – Stadtgarten, Köln (DE) w/ Jooklo Duo & Riccardo Sinigaglia (IT)
2016.05.18 – Het Bos, Antwerp (BE)
2016.05.08 – Worm, Rotterdam (NL) w/ Takuji Naka + Tim Olive (JP/CA)
2016.04.21 – In De Ruimte, Gent (BE)
Ōgon Batto / DSR LINES TOUR Fall 2014
2014.10.24 – Rakete, Stuttgart (DE)
2014.10.23 – Walpodenakademie, Mainz (DE)
2014.10.22 – Klub Genau, Köln (DE)
2014.10.21 – Makroscope, Mülheim (DE)
2014.10.18 – Nest, Brussel (BE)
2014.10.17 – Occii, Amsterdam (NL)
2014.10.16 – Worm, Rotterdam (NL)
2014.10.15 – Het Bos, Antwerp (BE)
2014.04.23 – Stadslimiet, Antwerp (BE)
2014.04.22 – 019, Gent (BE) w/ Gerard Herman
DAMO SUZUKI'S NETWORK
2014.03.21 – Stockholm S., Antwerp (BE)
Damo Suzuki (CAN), Kris Delacourt,
David Edren, Krist Torfs & Bent Vande Sompele